Sponsor and manager
Clifford Capital
On 25 July 2018, Clifford Capital successfully priced the first infrastructure project finance securitisation in Asia. Four classes of notes were issued by Bayfront Infrastructure Capital, which is sponsored by Clifford Capital, a Singapore-based specialist arranger and provider of project and structured finance solutions.
Strong demand was seen from global institutional investors including insurance companies, pension funds, endowment funds, family offices, specialised asset managers as well as individual sophisticated investors.
Also known as the Infrastructure Take-Out Facility (TOF), this landmark transaction was designed to unlock additional capital for Asia's infrastructure financing needs by facilitating capital recycling for banks and creating an investible asset class for institutional investors to access project and infrastructure loans in a credit enhanced structure.
Clifford Capital is the sponsor and manager of the TOF. As sponsor, Clifford Capital is responsible for the sourcing of the portfolio, including initial screening, credit analysis, due diligence and documentation. As manager, Clifford Capital will be providing certain investment management, administrative and advisory functions on behalf of Bayfront Infrastructure Capital.
The TOF's US$458 million portfolio is diversified across 37 project finance and infrastructure loans, spread among 8 industry sub-sectors and 16 countries across Asia-Pacific and the Middle East. The portfolio was sourced from leading international and regional banks with a significant presence in Singapore, including DBS, HSBC, MUFG, SMBC, Standard Chartered Bank as well as Clifford Capital.
As of the issue date, 75.6% of the portfolio relates to operational projects with stable and predictable long-term cash flows, including through offtake agreements entered into with reputable and credit-worthy counter-parties including major global corporations, state-owned enterprises and government or government-linked sponsors. The remaining 24.4% of the portfolio is in advanced stages of construction and benefits from external credit support provided by export credit agencies, insurers or multilateral financial institutions. The underlying debt service cash flows from the portfolio are generally denominated in U.S. dollars, which match the debt service cash flows with respect to the notes.
Three classes of investment grade rated notes (class A, B and C notes) were offered to institutional investors and are listed on the SGX-ST. The subordinated notes, which are not rated or listed, were retained by Clifford Capital. A diagrammatic representation of the transaction is set out below.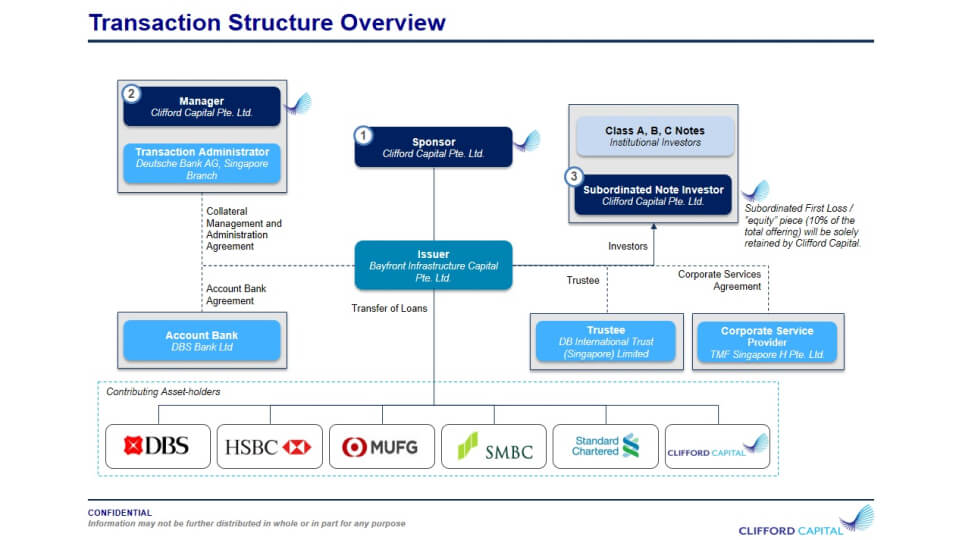 The TOF is a good example of how infrastructure can be developed as a mainstream, investible asset class for institutional investors. It also showcases the role that Singapore can play as a full-service Asian infrastructure financing hub, by bringing together the right mix of industry expertise and networks.
Citigroup and Standard Chartered acted as joint global coordinators, while DBS, HSBC, SMBC Nikko and MUFG acted as joint book runners and lead managers. Deutsche Bank AG Singapore Branch acted as the transaction administrator. Allen & Gledhill acted as the legal advisor, while Moody's provided the TOF's credit rating.
Source: Clifford Capital