Developer
ENGIE Services Philippines
The Philippines' first and largest energy efficient cooling system is a model for dense urban areas in Southeast Asia and a showcase of district energy solutions helping cities optimize energy supply, reduce electricity consumption, support economic development and lower environment impact.
Singapore-based ENGIE Services Asia-Pacific launched the Philippines first and largest District Cooling System (DCS) in September 2017. In this project, ENGIE Services Philippines partnered with Filinvest Land Inc. to form a joint venture called the Philippine DCS Development Corporation (PDDC) to help meet the energy demands of the Philippines' growing Business Process Outsourcing sector.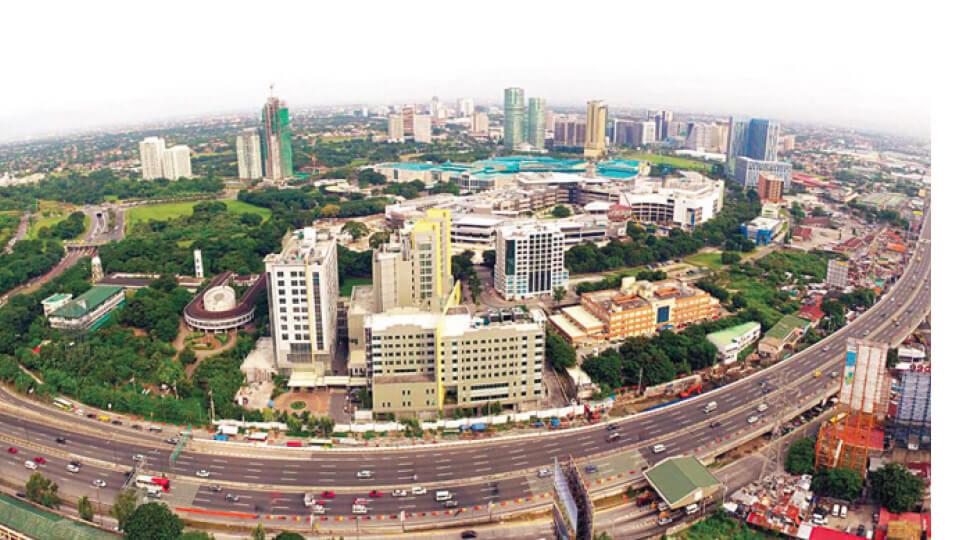 Located in Northgate Cyberzone, Alabang, Muntinlupa City, the 10,000-ton centralised DCS plant is the largest of its kind in the country, serving buildings and businesses within the IT park. With a cooling capacity of 42.2 megawatts, the plant caters to 15 buildings through a 3.4-kilometre underground distribution network of steel pipes.
Supported by the Asian Development Bank (ADB), the establishment of Northgate Cyberzone's DCS is an important milestone for the Philippines as it transitions to a low-carbon future. Compared to individual cooling systems, DCS helps reduce energy consumption, provides greater efficiency, lowers the initial capital investment and enhances real estate value by freeing up building space for other uses. Most importantly, DCS protects the environment by cutting carbon dioxide emissions due to lower energy consumption, making it a key component of sustainable development.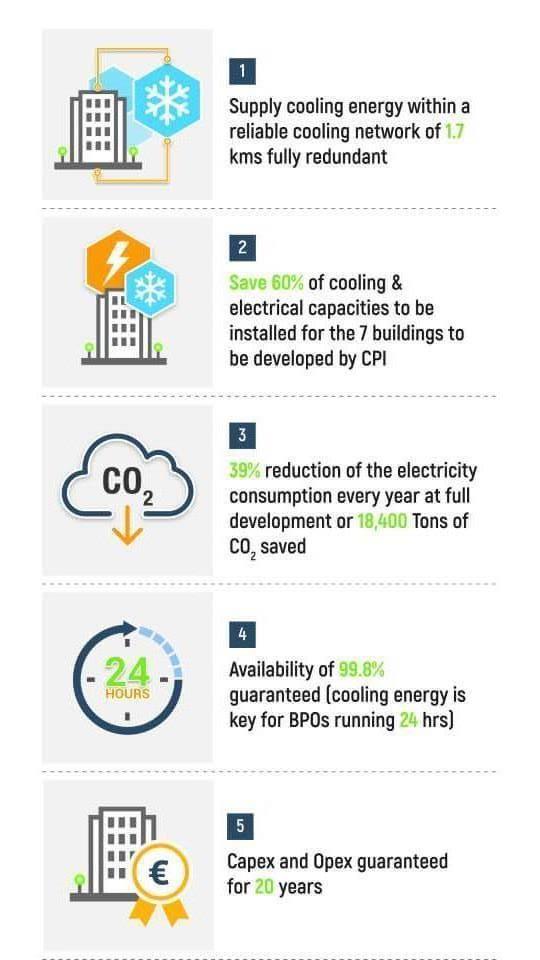 Performance guarantee structure by ENGIE in Northgate Cyberzone DCS
Since its implementation, the DCS has provided 24/7 cooling for office buildings that host Business Process Outsourcing operations at Northgate Cyberzone, helping clients improve their energy efficiency by 35 percent. Powered by a single district cooling plant, the Northgate Cyberzone DCS provides a peak cooling load of 8,640 Refrigeration Tons for buildings at 99.8 percent availability guarantee. The DCS also delivers a 39 percent reduction of electricity consumption per year, helping generate savings of up to 13 percent for clients while delivering 18,400 tons of CO2 reduction a year.
The success of the Northgate Cyberzone DCS is an important milestone for PDDC as it serves as an exemplary model for many of PDDC's other projects that are being developed to cater to the fast-growing Business Process Outsourcing market in the Philippines. Additionally, it gives Northgate a substantial commercial edge to attract new tenants within their IT Park and is in line with the Filipino government's drive towards green energy.
Discover how ENGIE has been contributing to a harmonious progress globally through low-carbon power generation, global networks and client solutions at their website.
About the developer

ENGIE Services Asia-Pacific, a business unit under ENGIE Asia-Pacific is headquartered in Singapore and provides organisations in the region with solutions that include integrated facilities management, district cooling and heating, transportation and green mobility, and data centre maintenance and management.

As a global energy leader and a forerunner in the energy world, ENGIE is committed to addressing major challenges such as the fight against global warming and providing access to clean energy for all.

With a focus on decarbonising, decentralising and digitalising the energy mix for the region, ENGIE Asia-Pacific is in the business of energy services, energy and power production, and gas distribution across countries in the Asia-Pacific region including Australia, Indonesia, Malaysia, New Zealand, Singapore, Thailand and Philippines.