Transit-Oriented Development
The Asian Development Bank has highlighted that 80% of the US$600 billion needed annually to finance developing Asia's transit infrastructure spending is currently coming from the public sector. This article explores how transit-oriented development can improve financing of such projects, making it attractive to international investors.
Asia's Critical Urban Transport Needs
Some of the world's most bustling cities are in Asia. According to the Asian Development Bank (ADB), 80% of Asia's new economic growth will be generated through these urban economies. With most jobs located in cities, 44 million people move to Asia's cities every year1. These growth trends place a huge strain on urban transport and mobility – time loss and transport costs alone are estimated to be 2% to 5% of Asian economies' annual gross domestic product2.
To support the growing demand for modern urban transport systems, Asian cities are heavily investing in the construction of roads and quality mass public transportation. Despite this, government budgets are often insufficient to support the large pipeline of projects. With the ADB highlighting a need of $600 billion annually to pay for developing Asia's transport infrastructure from 2016-20303, the public sector cannot continue to fund 80% of the costs, given that there are other priorities. Capacity-building is thus a must.
To overcome this hurdle, private capital is often presented as a supplementary and alternative source of funding. However, to mobilise private capital to deliver urban transport, there is a need for newer frameworks in the government's planning to better leverage land value capture, while developing liveable transit-oriented cities.
Transit-Oriented Development Improves the Business Case for Urban Transit Projects
Transit-oriented development (TOD) is a type of urban development that maximises residential, commercial and entertainment space within walking distance of public transport nodes. It is designed to increase access to public transport, with features that promotes transit ridership and mobility without dependence on automobiles. As population growth is increasingly centred in Asia's cities, building around and on top of multimodal transport stations has become a popular way to cross-finance urban transportation and public amenities in well-connected locations.
It is well known that TOD improves the liveability of cities. That said, its effect on the business case for mass transit projects is often neglected.
TOD overcomes key challenges for urban transport infrastructure projects
A key challenge that urban transport projects face is encouraging higher ridership. Most cities' transport have already decentralised amongst private vehicles and operators, says World Bank Senior Urban Transport Specialist David John Ingham4.
In view of this, TOD offers a strategic spatial planning tool to direct and regulate mobility in accordance with city's development vision, says Arup Consultant Kate Hardwick. It can help reduce competing transport options while still ensuring seamless last mile transport from transport nodes to residents' homes. TOD can foster a greater certainty of demand and make it more viable for projects to involve international investors in the design, implementation and operation of mass transport systems.
How TOD Can Boost Urban Transport Financing
Firstly, integrated spatial and transport planning represents robust demand planning. "A well-planned urban transit line with robust traffic study lowers the risk of future deviation from ridership and cashflows projections, which makes it more likely to be of interest to infrastructure investment managers like Partners Group, which look for promising greenfield projects to invest in on behalf of their clients," says its Vice President Toh Kok Leong. "To any credible real estate developer, a key investment criteria, in addition to existing and future population size based on location, would be the state of existing infrastructure and roads, and its integration with future transit plans to provide traffic flow and determine growth potential", says Sharon Sng, Senior Vice President for Indonesia of CapitaLand.
Secondly, TOD creates opportunities for new revenue sources from the space surrounding and within the station. Commercial returns through advertising, taxation, revenue sharing with developers of residential and office spaces offers alternative non-farebox revenue streams as foot traffic in the transit hub increases.
Thirdly, TOD will also make it easier to garner central state support. This is a key factor for projects' eventual bankability and investability, especially if it is a new transport network. Drawing from central states' budget often requires the project to incorporate higher prudence in planning, stronger public connectivity outcomes, and a vision on the use of public transport to support the long-term sustainable development of the city. These conditions can help to mitigate demand risks to the private sector, improve the project's economics and reduce the amount of the viability gap funding needed from public budgets.
"International lenders are interested in doing more to meet a substantial part of infrastructure projects' financing needs in emerging Asia. However, risk allocation and mitigation are key considerations. Central state backing together with fundamentally sound planning serves as good indicators on the project's attractiveness," says Steve Mercieca, Project and Infrastructure Finance Executive Director at Standard Chartered Bank.
For the above benefits to be realised, the international industry believes that the "successful implementation of a TOD project requires a robust feasibility study that takes into account stakeholders' acceptance of the developmental proposition upfront," says KPMG's Principal for Global Infrastructure Advisory, David Ng. He elaborated that the assessment on the financial viability of the TOD development should be underpinned by traffic and demand studies, market testing of appropriate mix of uses and project social and community impacts. It is also important to structure an appropriate framework that effectively enables joint development among the local authority, the relevant transit agencies and private developers. This should also include appropriate zoning regulations and an effective institutional mechanism to put into effect public and private cooperation for the TOD development, says David.
How Singapore's Transport System Successfully Harnessed TOD
As a testimony for the efficacy of TOD, one can look to how Singapore successfully leveraged it. The city-state shares many similarities and challenges with Indonesia's metropolitan areas, such as traffic congestion. These conditions have prompted Singapore to integrate its urban transit development with spatial design and planning and could be one example for interested cities in the same region to leverage TOD for urban transport.
Singapore's TOD is primarily focused on urban renewal, through the expansion of the transit network. The result is a constellation of satellite towns that surround a central core, with rail networks that link these towns to industrial parks and the city centre. These satellite towns are self-sustaining, with common public amenities within walking distance and a reduced need to venture out for common daily needs . Under the right conditions, TOD can also be used for discrete and promising projects rather than the entire network.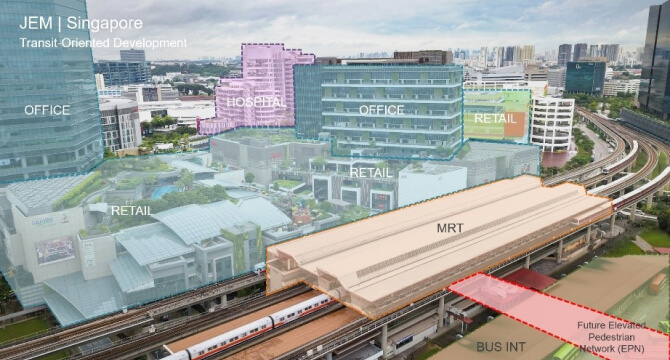 Jurong East Mass Rapid Transit Station and Bus Interchange: Site-based TOD design for a new integrated tourism and business hub
(Rendering provided by SAA Architects)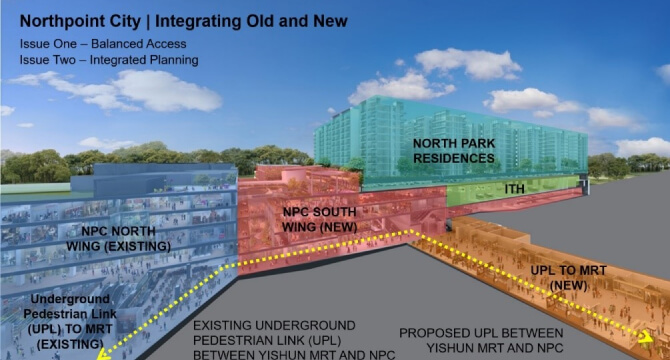 Complex TOD design applied for the expansion of a brownfield multimodal transport station at Yishun, to combine entertainment, residential and transport
(Rendering provided by SAA Architects)
Singapore's adoption of TOD also includes affordable public housing in well-connected areas. "Well-designed integrated planning around mass transit stations offers obvious land value capture benefits. However, this can also be better leveraged to capture a wider range of benefits for all segments of societies, including the provision of affordable housing by incorporating clear targets into available planning instruments and policies," says Arup Associate Principal Tony Chan.
Through organisations like Infrastructure Asia, cities in across Asia can tap into Singapore's international best-in-class ecosystem of firms with design, engineering and architectural expertise who were responsible for transport and spatial planning in top cities globally. The city-state also houses other key value chain players for transit oriented development, such as real estate firms active in the region (Perennial Real Estates, CDL, Capitaland, Keppel, Mapletree, Rowsley, MCC Land to name a few), financiers active in seeking opportunities to bank and invest in, as well as legal and transaction advisors who can help design and manage tenders up to its financial close.
In conclusion, TOD and robust urban plans backing cities' mass transit projects could inject greater confidence for developers and investors to bring and scale their successes in Asia's emerging markets. TOD offers a key building block to pave the way for transport infrastructure projects to access more private capital, as well as railway developers, rolling stock, technology provider and operators.
---
1 ADB. Urban Transport. Retrieved 1 October 2019. https://www.adb.org/sectors/transport/key-priorities/urban-transport
2 ADB. Urban Transport. Retrieved 1 October 2019, from https://www.adb.org/sectors/transport/key-priorities/urban-transport; and The Economist. The Hidden Cost of Congestion (28 Feb 2019). https://www.economist.com/graphic-detail/2018/02/28/the-hidden-cost-of-congestion
3 ADB. Sustaining Transit Investment in Asia's Cities. Retrieved 6 December 2019, from https://www.adb.org/sites/default/files/publication/496991/sustaining-transit-investment-asia-cities.pdf
4 Some cities that IA is engaging has close to 90% of its current transport served by private vehicles.
5Centre of Liveable Cities. Challenges and Reforms in Urban Governance. https://www.clc.gov.sg/docs/default-source/books/challenges-and-reforms-in-urban-governance_27apr.pdf; and World Bank Group. Transforming Cities with Transit. https://openknowledge.worldbank.org/handle/10986/12233.
---
Many thanks to the following companies who have shared valuable insights over the course of IA's work: Allen & Gledhill, Arup, CapitaLand, DBS, Keppel Urban Solutions, KPMG, MSI Global, Partners Group, Perennial Real Estate, SAA Architects, SMRT, Surbana Jurong, and UOB; as well as non-private sector organisations like the Centre for Liveable Cities, Singapore Land Transport Authority, and the World Bank.
Adapted versions of the article have been published by Asia House, with permission from Infrastructure Asia.
This article was collated by Seth Tan and Poh Mei Yi, and benefitted from the sharing by the Singapore-based ecosystem above, including:
Kate Hardwick, Consultant, and Tony Chan, Associate Principal (Cities and Planning), Arup
Sharon Sng, Senior Vice President for Indonesia, CapitaLand
David Ng, Principal for Global Infrastructure Advisory, KPMG
Toh Kok Leong, Vice President, Partners Group
Lim Hong Kian, Director, and Rustam Tan, Assistant Director, SAA Architects
Steve Mercieca, Project & Infrastructure Finance Executive Director, Standard Chartered Bank
David John Ingham, Senior Urban Transport Specialist, World Bank