Sustainable Infrastructure: Accelerating Southeast Asia's Journey to Net-Zero
While climate goals have been on the minds of nations in recent years, the pace of global smart city initiatives towards a net-zero future has been greatly accelerated, particularly by the outbreak of COVID-19.
In light of the upcoming UN Climate Change conference in November 2021, it is important to note that while climate goals have been on the minds of nations in recent years, the pace of global smart city initiatives towards a net-zero future has been greatly accelerated, particularly by the outbreak of COVID-19.
This year, many Southeast Asian nations have stepped forward with more ambitious goals to lower carbon footprint. It is not a coincidence that this comes during the COVID-19 pandemic – many nations are seeing the opportunity to "build back better" and they are also seeing new growth areas that sustainability can bring about. Aiding this is the cost of renewable energy hitting its lowest in the past few years.
Sustainable Infrastructure – The Backbone of Smart Economies
Infrastructure plays a bigger part in a country's sustainability efforts than some realise. To truly capitalise on the benefits of smart infrastructure, there is a need to ensure buildings are developed not just to weather elements of climate change, but also built in a holistic manner that includes the city's economic, financial, social, environmental, and institutional goals. This is also known as the Environmental, Social and Governance ("ESG") aspects of infrastructure. These include:
Economic Sustainability

– Generating economic activity, creating job security or diversification, or construction optimisation and reduced lifecycle costs

Social Sustainability

– Infrastructure that provides services and connects society, promotes quality of life, cultural preservation, and considers social impact and human rights

Environmental Sustainability

– Protecting the environment and mitigating climate change

Governance and Institutional Sustainability

– Transparency and robust governance framework with clear objectives

Sources: KPMG's Global Infrastructure and Climate Change Discussion Document (October 2020); United Nations Sustainable Development Goals ("UN SDG"); and Infrastructure Australia.
The Keys to An Effective Sustainable Infrastructure Revolution
Going one step further than simply incorporating ESG principles into sustainable infrastructure plans is honing the ability to leverage market sentiment, investors, corporate agendas, and the public sector to achieve measurable outcomes and tangible change.
Market sentiment and investors
KPMG's recent Survey of Sustainability Reporting 2020 has found that an increasing number of investors, asset managers, and ratings agencies are incorporating ESG principles into their investing mandates, portfolio holdings, and assessment of corporate performance and risk. They have also started to identify and track more complex ESG considerations in debt and equity markets for infrastructure opportunities. In turn, infrastructure developers and operators are striving to embed ESG criteria in their projects and across their asset lifecycles to attract investor and lender interest.
Corporate agendas
With the need to rebuild organisations for a new and sustainable post-COVID economy, business leaders are realising the 'E' in ESG can no longer be glossed over, according to KPMG's 2020 CEO Outlook survey. Corporate agendas have begun to reflect risk identification, assessment, and mitigation as top priority areas as companies look to quantify the financial, physical, regulatory, reputational, and transitional risks of climate change-driven impacts on assets and businesses.
Public sector
Governments and intergovernmental organisations are also increasingly taking the lead in setting clearly defined criteria and policies to guide ESG investment priorities and programmes as well as to evaluate new development opportunities. This has led to majority of major companies (over 70%) setting and disclosing carbon targets, particularly those in the automotive, mining, utilities, technology, media, and telecommunications industries.
Existing infrastructure pipelines have pivoted to sustainability-focused assets with more governments widening the availability of ESG grants and subsidies for sustainable projects. Spurring the momentum of sustainable project development is the accessibility of transition finance and blended finance — a structuring approach that enables public and private investors with different objectives to invest alongside one another. This nurturing of partnerships between governments and corporations has boosted the acceleration of growth in this area, further driving the sustainable infrastructure agenda.
Building Cities of the Future
The way climate change has influenced the way we plan, finance, build and operate infrastructure assets has opened doors for both existing and new players to a goldmine of new innovations that can and will power the cities of the future.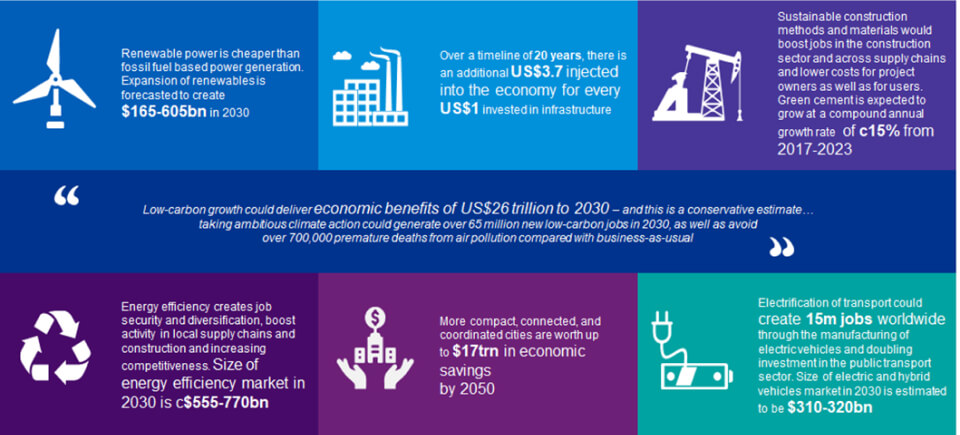 Source: KPMG's Global Infrastructure and Climate Change Discussion Document (October 2020)
Looking ahead, some possible manifestations of sustainable infrastructure are:
Smart and green cities

: This entails citizen-centric infrastructure designs that aim to improve quality of life for residents. Smart mobility/intelligent transport systems, security and policing, smart grid, smart healthcare, and smart utilities such as resilient and sustainable water, power, and urban waste management are hallmarks of such cities.

Sustainable energy technologies

: There are now increasing investment opportunities in clean energy technologies, including renewable energy-based electricity generation, carbon capture, utilisation and storage ("CCUS"), hydrogen, and bioenergy as fuel.

Smart infrastructure delivery

: Technology is leveraged to lower project risks and costs across the entire project lifecycle — from planning to construction monitoring, as well as performance management with innovations such as digital twins, predictive maintenance, and robotic process automation. According to KMPG's discussion document, this is likely to become pervasive, ensuring high reliability and resilience of infrastructure services.
Real-world success stories around Asia also provide vital learnings on project planning and implementation.
Protecting the coastlines in Singapore

is critical amidst the pressing concerns of rising sea levels and extreme weather. Recently, KPMG developed coastal protection measures for one of the nation's key tourist island destinations to manage the long-term economic and social impact of protecting our coastlines. The steps entailed analysing potential flood damage forecast, developing coastal adaptation strategies, quantifying maintenance requirements and assessing the impact of these measures on the island's character, residents and businesses.

Navi Mumbai Municipal Transport in India

is integrating digitalisation and technology into the city's transport system such as real-time vehicle tracking and an automated fare collection system, thereby making the overall system operation more cost-effective and efficient. In the long run, these cost savings will likely ensure the project's economic sustainability, as well as pave the way for India's smart city journey.

Infrastructure Victoria (IV) in Australia

led an independent, in depth inquiry for the Victorian Government on infrastructure planning for automated and zero emission vehicles. IV demonstrated that the introduction of automated vehicles in urban areas, car sharing models and the adoption of electric vehicles will lead to reduced carbon emissions, fewer vehicles on the roads and improved quality of life. The advice identified a pathway, including policy and recommendations, for enabling automated and zero emission vehicles.

A Leading Utility Company in the UK

is developing a vision for a Net Zero Energy System in 2050 by mapping various consumer archetypes and their expected future lifestyles to different forms of energy and technology needs, as well as fuel diversification options.
Transitioning to a Smarter Asia
Even as the global push for sustainable infrastructure accelerates, many challenges lie ahead that could potentially derail implementation efforts. Hence, three factors are key in managing the transition:
Institutional capacity development

– The conceptualisation and structuring of bankable and commercially viable projects is vital. Critical to this is a conscious effort to move away from traditional ways of delivering infrastructure and instead tapping on successful models. Urban infrastructure frameworks in Singapore, renewable energy experiences in Vietnam, or road project models in India are some exemplary templates that other countries may adopt as a starting point for their own sustainable project pipelines.

Whole-of-government approach

– Besides capacity development, a whole-of-nation movement is essential in driving a sustainability agenda, wherein different government agencies work in unison towards a shared goal. For example, Singapore's Green Plan 2030 lays out specific and concrete targets over the next ten years that will strengthen the country's commitments under the United Nations sustainable development goals (SDG) and Paris Agreement.

Leveraging the private sector

– In today's highly competitive market, there are major advantages to utilising infrastructure-as-a-service. The private sector is incentivised to deliver sustainable infrastructure without compromising returns. This means they will combine technology, management, and financial innovations with energy efficiency and life cycle cost management solutions. With rapid urbanisation and the increased need for robust and resilient infrastructure, the focus might shift towards smart urban infrastructure services, further underscoring the need to develop private sector capabilities to support economic planners and regulators in charting the roadmap for a sustainable future.
Engineering Net-Zero Success for Southeast Asia
Green infrastructure is more than just climate-friendly buildings and networks. It involves thinking about how to build sustainability into daily living while creating innovations and alliances to make it happen.
While closing the distance to a net zero future might seem like a daunting process, the collective effort of stakeholders in Asia's private and public spheres is already triggering shifts in policies, mindsets, and investment models. From here on, the coordinated efforts between the governments, businesses, and industry leaders in the region will play a critical role in eking out the path towards smarter, greener cities.