Potential Infrastructure Projects in ASEAN | Infrastructure Asia
The Initial Rolling Priority Pipeline of Potential ASEAN Infrastructure Projects have satisfied a set of screening criteria and are expected to attract robust investments.
To help attract more public and private investments for infrastructure in ASEAN, Master Plan on ASEAN Connectivity (MPAC) 2025 recommended the establishment of a rolling priority pipeline list of potential ASEAN infrastructure projects and sources of funds.
The Pipeline will contribute to ASEAN's objective to improve access and increase connectivity in and among ASEAN Member States by identifying and prioritising physical infrastructure projects that have regional economic impact. It is anticipated that the process of developing the Pipeline will help ASEAN Member States strengthen their own project development capacity in line with international best practices.
List of projects in the pipeline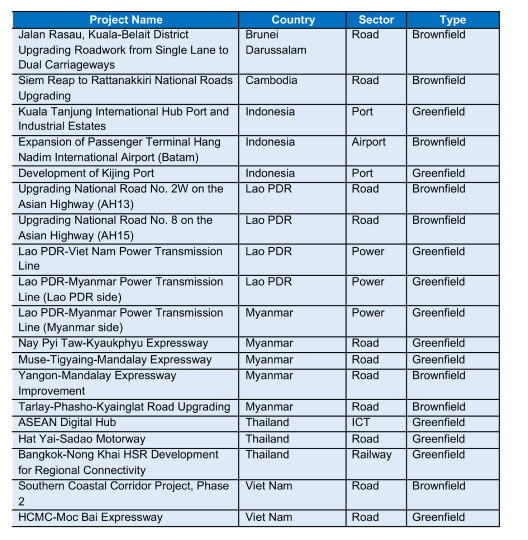 ---
References:
ASEAN identifies potential infrastructure projects - ASEAN | ONE VISION ONE IDENTITY ONE COMMUNITY. (2019). Retrieved 16 August 2019, from https://asean.org/asean-identifies-potential-infrastructure-projects/




Enhancing ASEAN Connectivity (2019). Retrieved 16 August 2019, from https://connectivity.asean.org/wp-content/uploads/2018/11/Brochure-Enhancing-ASEAN-Connectivity.pdf